Regular price
Sale price
$36.00 USD
Unit price
per
Sale
Sold out
Multi-purpose skin balm
This organic balm is perfect for emergency use for bruises, stitches, cuts, burns, swellings, bumps, and for DIY skin care, face mask & and ingrown toenails. It is also used for postpartum care like perineal tear and pains, reduces swelling and pressure-like sensations, and speeds up healing time. This organic balm is a must-have in every household.
View full details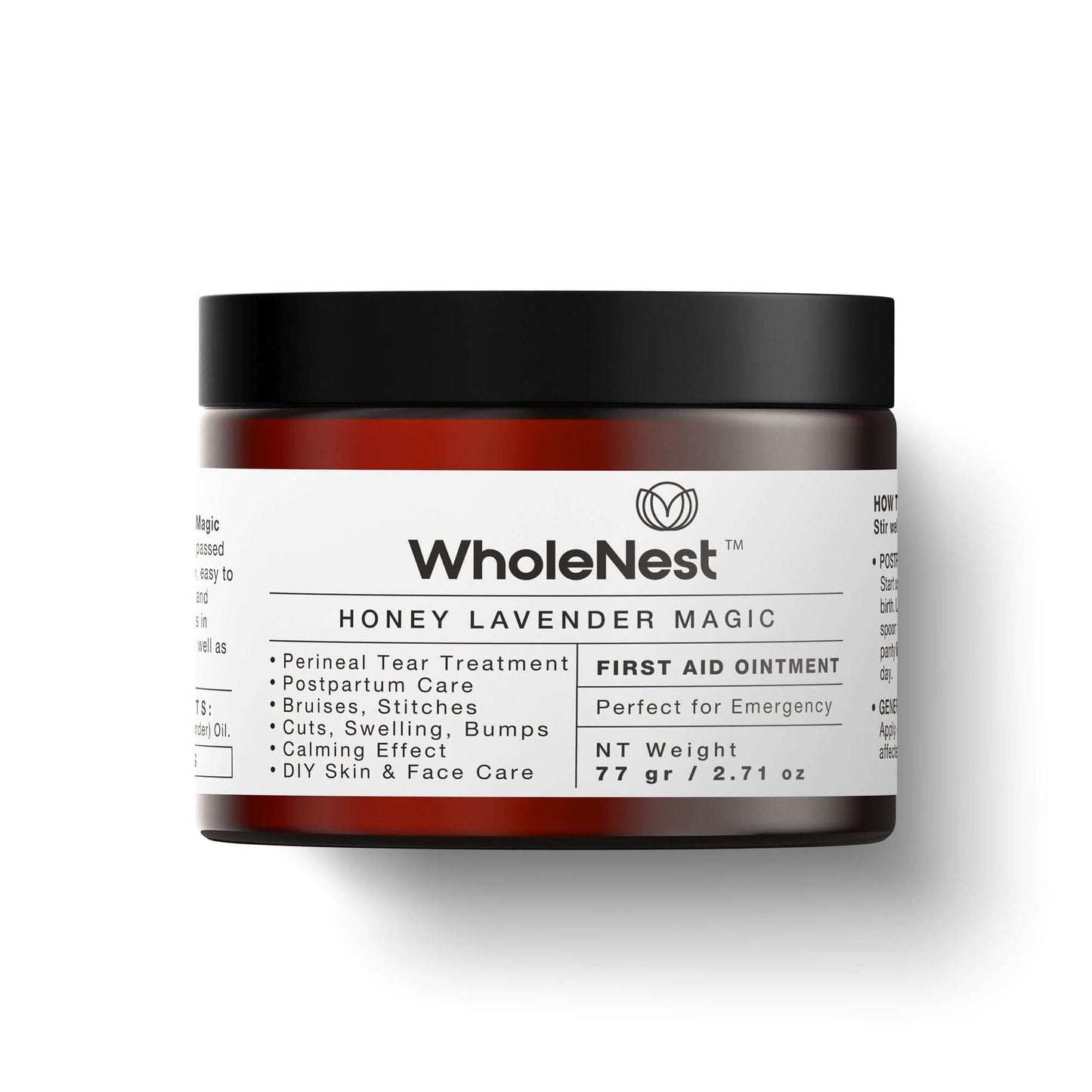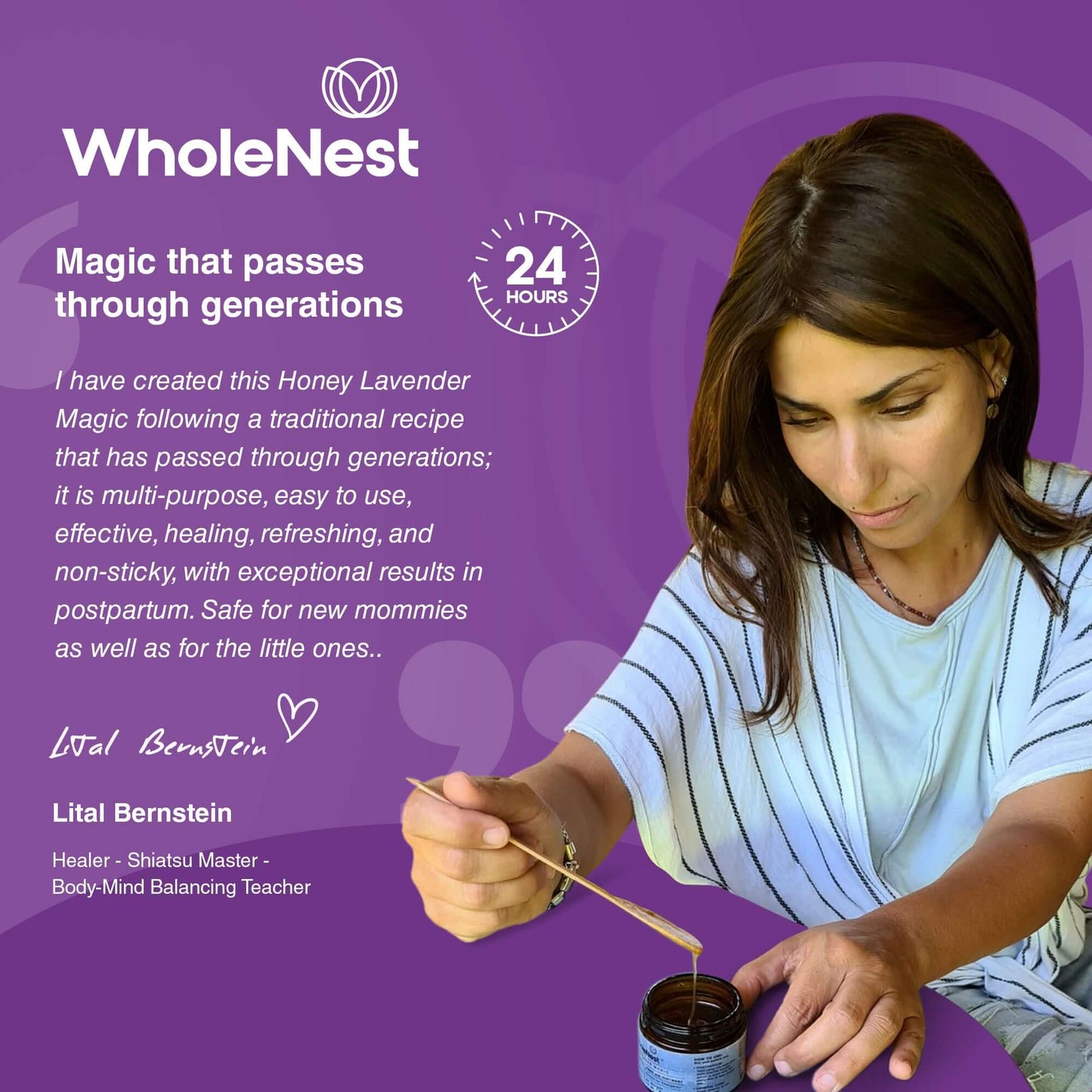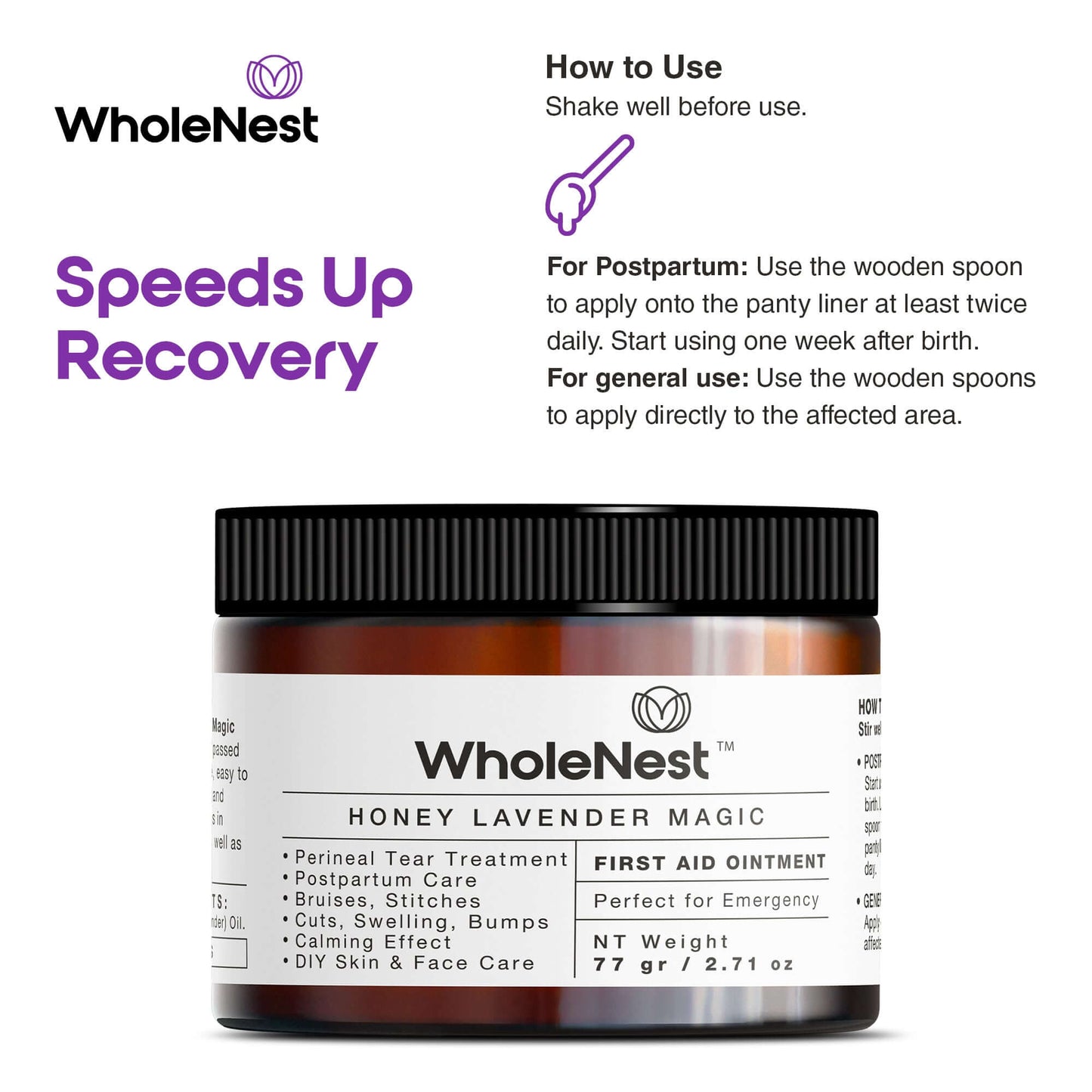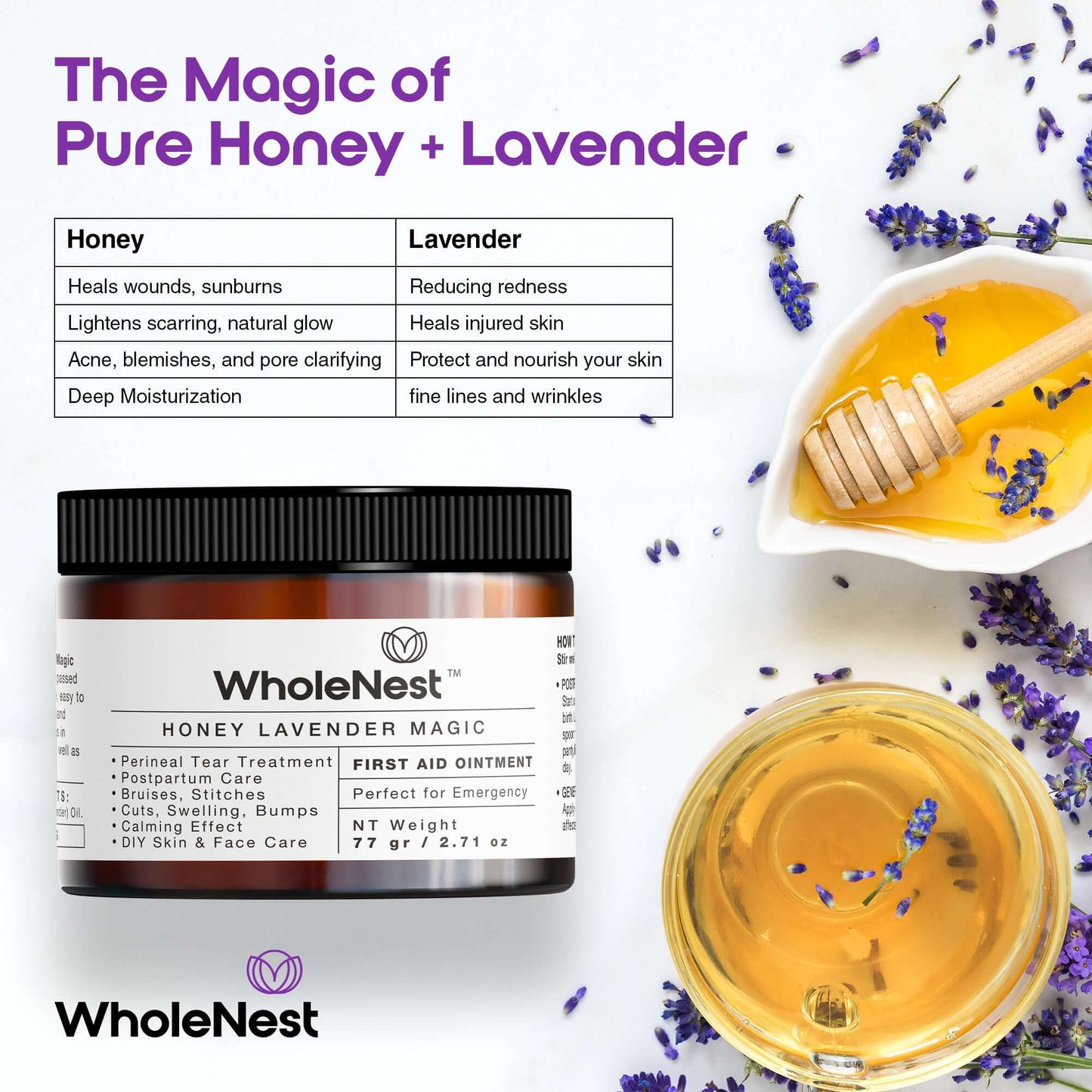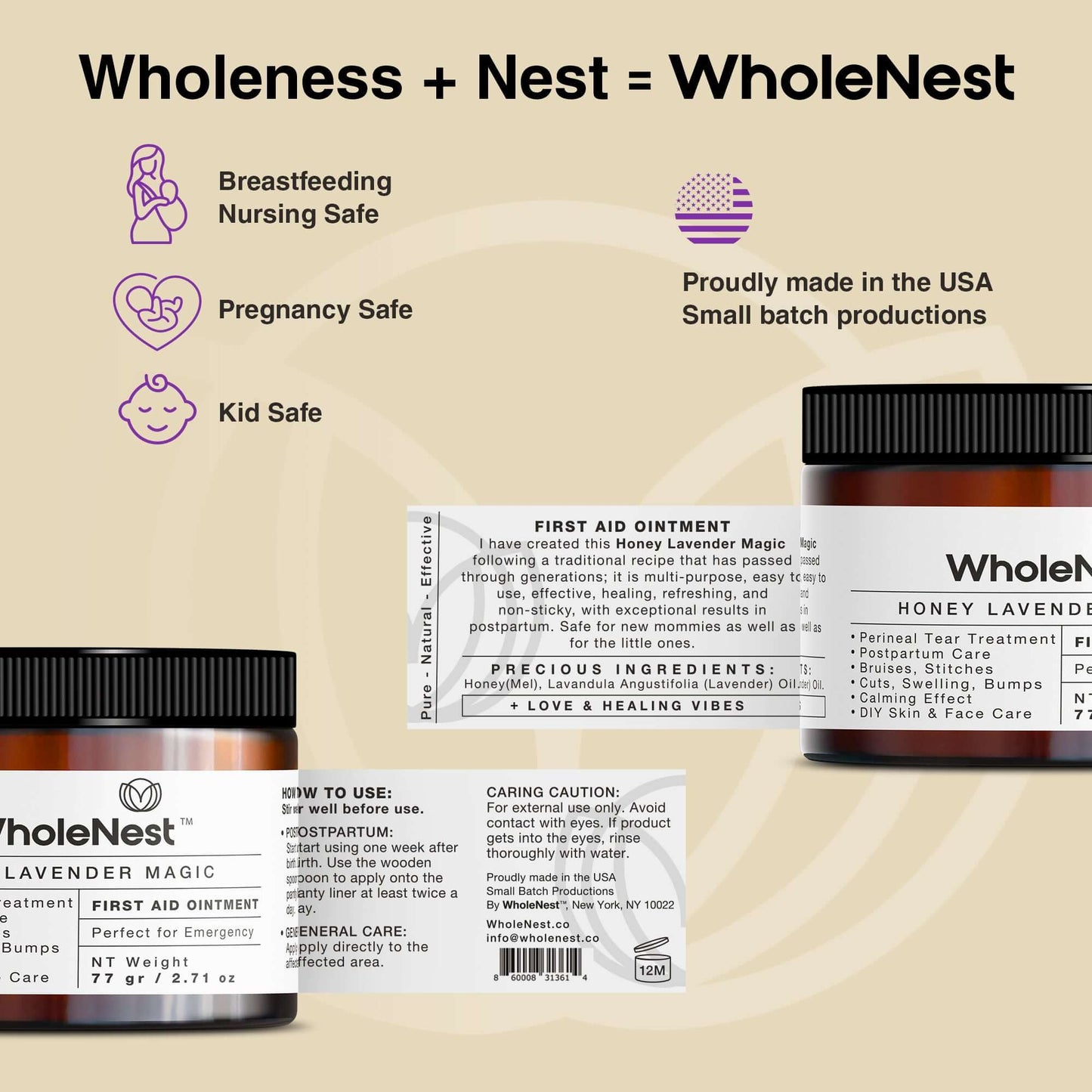 FAQs
Is this organic and all natural?

Absolutely - we do not use chemicals or preservatives.
What do you mean by purest, high-quality, "precious" ingredients?

Having precious ingredients means we carefully studied and validated every ingredient that makes its way into our products. We validate every strain, production process, and origin, and we treat each one of the ingredients as a sacred gift by nature.
What is the texture like? Is it sticky?

Our Honey Lavender Magic balm has a unique texture because it was formulated with the purest and highest-quality ingredients. It is thick in texture because of its (not so) secret ingredient: honey. It is non-greasy, and easy to apply!
Can I use it immediately after giving birth?

We recommend for you to use our post natal mom liquid balm one week after birth.
Is it safe for kids and pregnant/nursing moms?

Yes, yes and yes! Our post-birth essentials balm is safe to use during and after delivery and can also be used by your kids. It can be used as perineal tear treatment, wound healer, scar fader, acne spot remover, & address ingrown toenail irritation.
Wonderful Products
I have been using the Wonder Spray like crazy - I use it to refresh my skin, take some deep breaths and relax. I also got a cold right after receiving the Go Away Cold and used it on my pillows, chest and feet. My poor kiddo got bit by a classmate and although they took care of it at school I still applied the Honey Lavender balm to her hand for quicker healing.
Yay! Amazing review from an amazing mom! Thank you for sharing your experience with us, and we are happy that you get to try and love our products!
This closed my cut in 2 days which is life changing since I work with my hands!
When I find something that ACTUALLY works, I can't keep it to myself!
This product by @wholenest is truly magic, hence the name Honey Lavender Magic!
I always get little cuts at the edges of my thumbs during the dry cold seasons and nothing I've used in the past helped close it up! This closed my cut in 2 days which is life changing since I work with my hands!
Oh yeah
Great for bruises and after birth or scars. Thank you.
Great natural product made in the USA
Honest reviews matter, good or bad, so here's my thoughts... Pros: wonderful scent that isn't overwhelming; not sticky - I was worried about that since it's made with honey; soothed my razor burn Cons: absolutely none - checking out the other products from this company
Great for "everyday" use- not just postpartum
This contains 2 ingredients: honey and lavender oil. The smell is great- a very strong lavender smell. Both of these ingredients are amazing for healing cuts and burns. I keep this in the fridge for those 2 reasons. Yes, it get s a little stiffer, but it feels really good on your skin. This is a very small jar for the price, hence the 4 out of 5 stars.